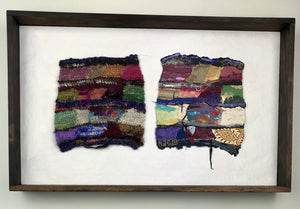 Certain Slant of Light
Sale price Price $500.00 Regular price $500.00
This piece is the beginning of my work combining fiber and my paper. The left side is a crochet tapestry and the right is an assembly of papers, a mirror of its mate. The two pieces are mounted on painted wall board, wood framed.
Content: wool, mohair, silk. Paper collection, some 1930 antique wall paper
Size: 6" high x 7" wide each section,  24" wide x 9" high x 3" deep overall
 Note: Have an idea for someone? I welcome special orders. Sign up for a subscription-alerts when a new collage is added.