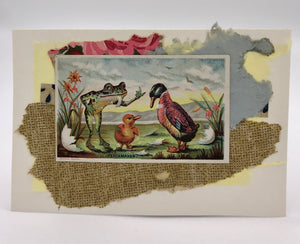 Peacemaker Card
Sale price Price $10.00 Regular price $10.00
This all occasion art card is one of a kind, signed, and usually made in a series. I like this one for its humorous, whimsical feel. The illustration is an advertisement from the 1920's found in boxes of food mainly. An envelope is provided yet this card is also suitable for framing. 
Content: found, old, or handmade paper on watercolor rag paper. 
Color:  maroon, cream, yellow, blue, tan, rose, and orange
Size:  6 1/4 wide  x 4 1/4" high 
Note: Have an idea for someone? I welcome special orders. Sign up for alerts when a new batch is added.