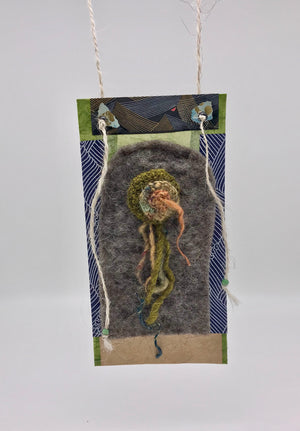 Jewelry Wall Frame, Dusk Series 1
Sale price Price $40.00 Regular price $25.00
This hanging paper assembly is made especially for the handspun, crocheted brooches found on my website. Display your brooch or any jewelry as a framed art piece while not being worn and keep it safe and ready to wear.
Paper collage approximately 9" high x 5" wide with wool cloth 7 1/2" high x 3 1/2" wide, hanging a total of 18" long. 
Felted wool cloth for pinning and securely hand stitched to frame.
Japanese paper colors of the dusk: green, copper, blue, light green, and accents of red.  Handspun Scottish Blackface twisted ties with bead accents. 
Signature logo hand stamp on back.
Pictured with the wall frame is the brooch, India, found in shop catalog under brooches and can be purchased together or with any other brooch on my website or by special order.