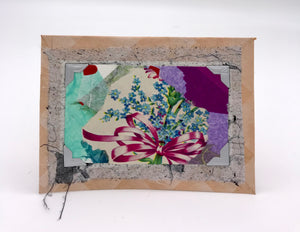 Floral Bow Card
Sale price Price $8.00 Regular price $8.00
This all occasion art card is one of a kind, signed, and usually made in a series. It has silver corners framing the old floral greeting card array. An envelope is provided yet this card is also suitable for framing. 
Content: found, old, or handmade paper on card stock. 
Color:  cream, aqua, white, silver, maroon, grey,  and purple
Size:  4 3/4 wide  x 3 1/2" high 
Note: Have an idea for someone? I welcome special orders. Sign up for alerts when a new batch is added.