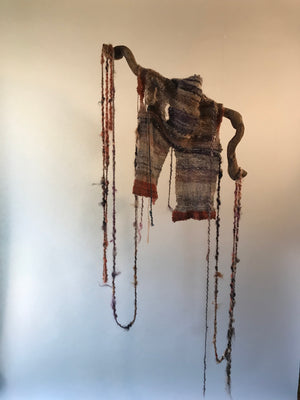 Hanging out
Sale price Price $500.00 Regular price
Hanging out has the shape of the human form striking a causal pose.  This piece is woven off loom, shaped and draped over a found Maine driftwood. All of the long handspun, plied tassels or fringe are woven into the body of the piece and can be loose depending on space. The shape of the weaving can be rearranged at will or to fit the environment. It can also be a dimensional work displayed so the back can be viewed as well.
Content: handspun, hand dyed wool and mohair warp and weft. Some colors are from natural sources. 
Color: madder reds, grey, brown, pink, white 
Size:  20" wide stick to stick, 11" wide x 16" long in the weave, 48" long total.
Please Contact Me if you would like to discuss a special order or are interested in this piece.