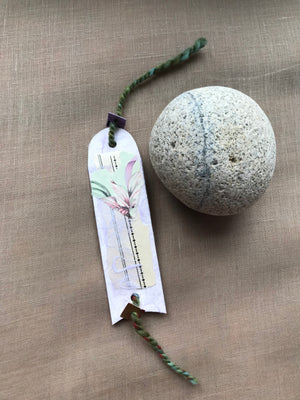 Heart Lily Bookmark
Sale price Price $15.00 Regular price $15.00
Valentine or heart art cards are part of a group made for around 80 friends and family each year. A few special 2023 extra remain. Heart Lily Bookmark is one of a kind featuring vintage greeting card bit, sheet music border, as well as my signature checkered stripe. My hand spun dyed yarn highlights the bookmark with crafted paper square beads attached.  An envelope is provided.

Content:  found, old, or handmade paper on card stock. Wool yarn with paper bead.  
Color:  pinks, greens, blue, yellow, beige, white and gold on lilac backing. green wool. 
Size: Card: 5 1/2" long x 1 1/2"  wide. 11 3/4" long with yarn. 
I welcome special orders.