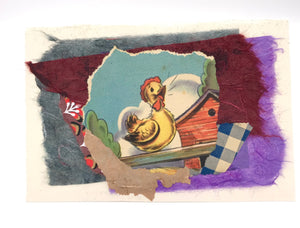 It's a Very Good Morning Card
Sale price Price $10.00 Regular price $10.00
This all occasion art card is one of a kind, signed, and usually made in a series. I like this one for its humorous, whimsical feel. The illustration is from a damaged 1930 children's cloth book. Envelope included. 
Content: found, old, or handmade paper on watercolor rag paper. 
Color:  maroon, cream, yellow, blue, gold, red, and purple
Size:  6 1/4 wide  x 4 1/4" high 
Note: Have an idea for someone? I welcome special orders. Sign up for alerts when a new batch is added.