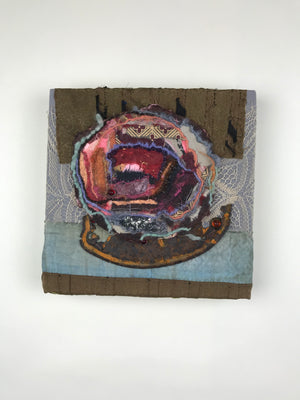 Rondo. Allegro con Brio
Sale price Price $400.00 Regular price $400.00
This piece was the continuation of my work combining fiber and paper and now fabric.  Beginning with the crochet foundation of hand spun, dyed wool and mohair then attaching to the collaged paper finally adding the rust and buttons.  The stitched silk vintage fabrics and lace were stretched onto the frame and crochet paper mixed media foundation added. 
Content: Wool, mohair, silk fabrics and lace, with rust, buttons and antique paper collage
Colors: blue, olive, white background, reds, pink, blue, orange, white, and rust. 
Size: 10" high x 10" wide 
Note: Have an idea for someone? I welcome special orders. Sign up for a subscription-alerts when a new collage is added.