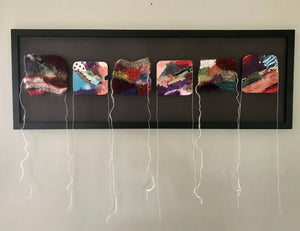 She Said, She said, She said
Sale price Price $600.00 Regular price $600.00
The three textile pieces use tiny handspun, dyed fiber creating magical small tapestries. Rhythmically alternating between them are three vintage collage squares…all communicating with stitched strings attached. 

Content: Maine wool, mohair, angora, silk.  And antique and repurposed papers on paper board.   Mounted on art paper, wood framed ready to hang. 
Colors: Millions of colors on dark gray board
Size: 8" high x 24" wide overall.  Paper and crochet squares: 3.5" x 4". 
Note:  I welcome special orders. Sign up for a subscription-alerts when a new collage is added.