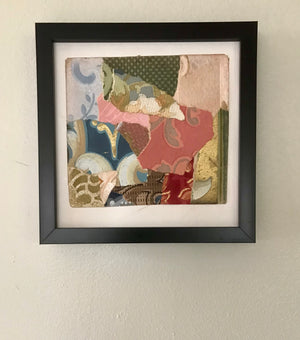 Study 3, Take Rose and Green
Sale price Price $50.00 Regular price $50.00
This study is one of a series from my daily sketchbook and is one of a kind. These papers are from 30's-40's wallpaper books. The feel and look of the paper is grainy giving the colors a patina like no other. It is in a black frame that is ready for hanging or to set on a surface. 
Content: Vintage paper assemblage on card stock. Wood frame under glass. 
Color:  Blues with lilac, gold, tan, white, rose, grey and greens. 
Size:  4" wide  x 3 1/2" high in collage.  5 1/4" x 5 1/4" in frame.
Note: Have an idea for someone? I welcome special orders. Sign up for a subscriptionalerts when a new batch is added.